Without a doubt, short hair is the length of the moment. It has been steadily growing in popularity in recent times and has now hit a pinnacle point of popularity. Models, actresses, singers and 'It' girls have all gone the chop and debuted fabulous new hairstyles at a cropped length. For 2016 this major trend is taken to the next level with added bangs. Whether the look is a sleek bob with thick front bangs, such as Taylor Swift's recent hairstyle for the Grammys, or a messy crop and swept-back side bangs, à la Rachel McAdams, this is the perfect hairstyle. Here are our top short hairstyles with bangs that will inspire you to make a dramatic change to your do. Now call your hairdresser, chop chop!
1. Side Bangs
Side bangs are a softer and more feminine way to approach this trend and as such, should be paired with an appropriate hairstyle. Steer away from sharp, short bobs and instead opt for a lob that sits on the collarbone.  This adds just enough length to your hair to keep it super feminine whilst still looking fresh and on trend. It also makes it much easier to gradually blend in the length of your bangs to the rest of your hair.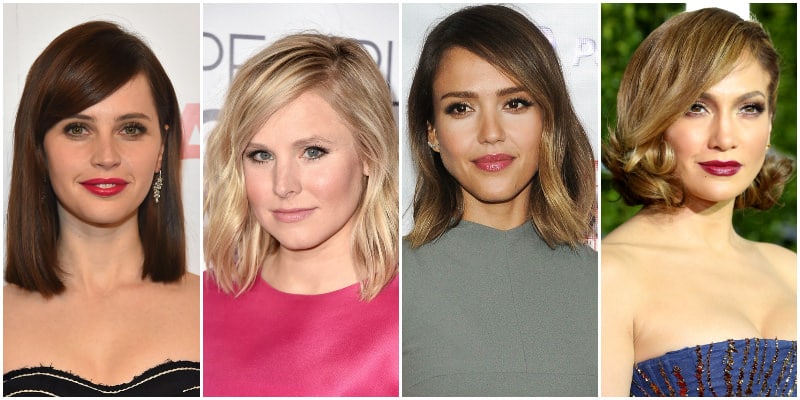 How to Style Side Bangs
2. Short Bangs
Short bangs are a rapidly growing but can be a little difficult to pull off. Short bangs make a big statement and pack a lot of attitude so your hairstyle must match to achieve a balanced overall look. Style short bangs with messy, choppy locks and don't be afraid to cut your hair short to chin length or above. Now's not the time to get shy around the scissors! Confidence is the key to pulling off this style of short hair with short bangs.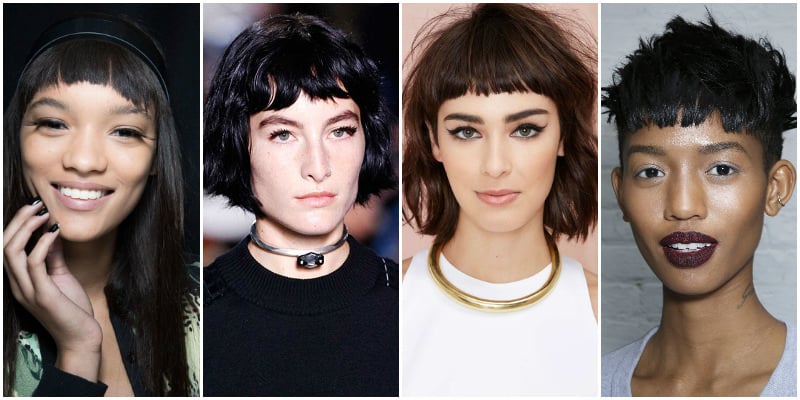 How to Style Short Bangs
3. Thick Bangs
Thick bangs can appear quite heavy on the face which is why opting for a shorter length is a good idea. It helps to balance the look and keep it from looking bulky and drab. Keep lengths at or above the collarbone to appear more glamour than Gothic. For a super stylish look with thick bangs, a chic bob is definitely the way to go. Channel Taylor Swift or Rose Byrne and part your hair off centre to keep the look fresh and current.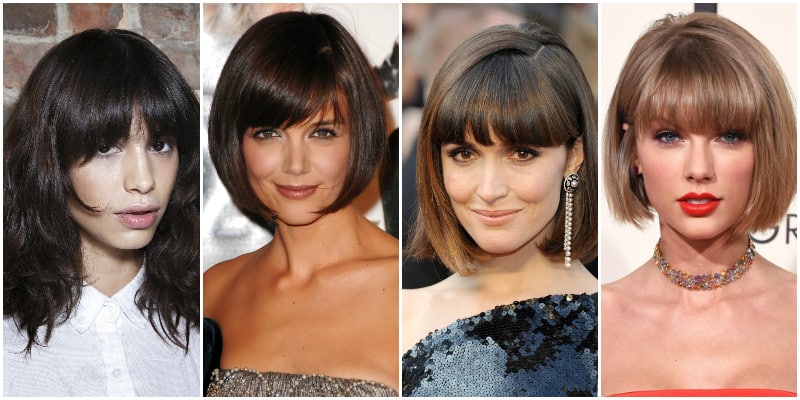 How to Style Thick Bangs
4. Straight Across Bangs
Straight across bangs may make you think of your early school years but they are back and chicer than ever. This style is great for those with rounder faces, such as Jessie J, or super defined cheekbones, such as Karlie Kloss. The best style to suit straight across bangs is a bob. Shoulder length, chin length or a flapper girl, cheek length, straight across bangs and a bob are meant to be. Have your hairdresser cut your bangs to just below your eyebrows to keep the look polished and sultry.
How to Style Straight Across Bangs
5. Curly Bangs
Do you have naturally curly hair? Next time you walk into the hairdresser channel a bit of Baby from Dirty Dancing and cut your hair to include curly bangs. Curly bangs are one of the coolest trends of the season and pack a whole lot of attitude into one do. Perfect for lengths that just graze the shoulders when dry, curly bangs match perfectly with high volume, bouncy curls. Whether your bangs are long, short or parted to the side, give the styling tools a rest for now and embrace your natural curl.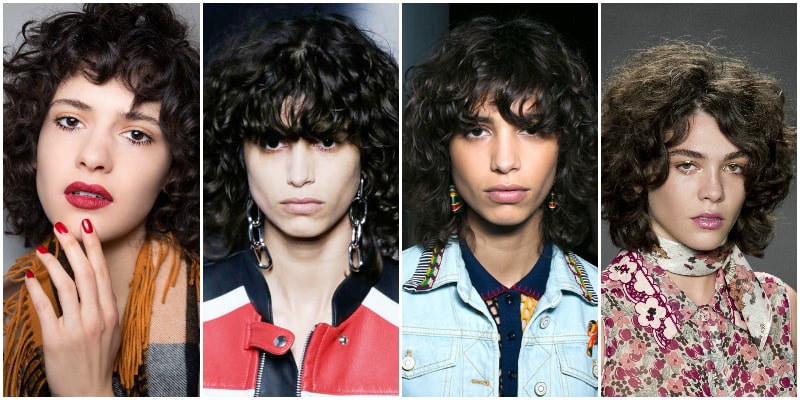 How to Style Curly Bangs
6. Curtain Bangs
Bridgette Bardot's signature curtain bangs are back in fashion. And thanks to "It" girls such as Alexa Chung and Jennifer Lawrence we now know how to wear them. Curtain bangs are the perfect look to try with a grown out bangs. This simple style is sexy and sweet at the same time. It can also be used to soften a severe looking middle part.
 How to Style Curtain Bangs
7. Eye-Grazing Bangs
Eye-grazing bangs can create a sexy look and suit most face shapes. Have your hairdresser cut yours in the 'M' shape to keep hair out of your eyes. Also, regular trimmings are a must for this style. Instead of cutting your bangs straight across ask your hairdresser to let the sides gradually taper in to keep the look soft and feminine. And the perfect hairstyle to match these soft bangs? It's a feminine layered lob of course.
How to Style Eye-Grazing Bangs
8. Swept-Back Bangs
If you have lengthy side bangs, sweeping them back instead on styling them forward can create a fresh look. Furthermore, if you have started growing out your bangs, this is also the perfect style for you. Swept-back bangs look perfect with lobs, bobs and even grown out pixie cuts. They create the perfect balance between chic and carefree. For a more subtle version, wear your swept bangs as Rachel McAdams or for a bolder look, pair with a close shave on the side, such as Miley.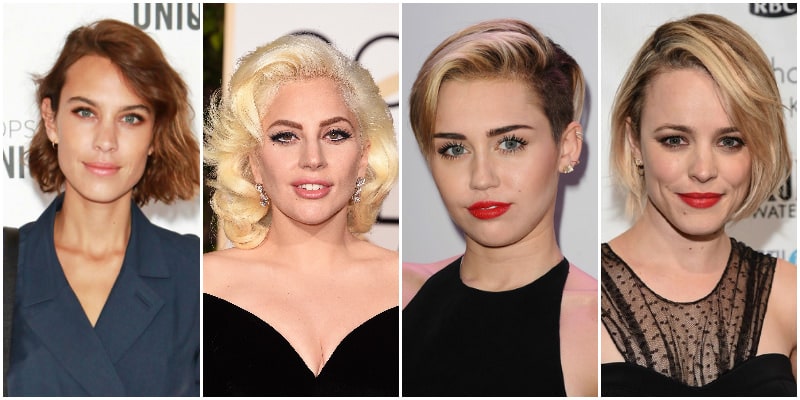 9. Blunt Bangs
Like straight across bangs, blunt bangs can create quite a severe look. But if drama is what you are after, then these are the bangs for you. Both shoulder length lobs and chin length bobs work great for this style. A bob adds to the theatrical style of the bangs whilst a lob softens it. Blunt bangs should be cut thick and heavy with no thinning. Have your hairdresser taper in the sides to gently frame the face and offset the severeness of this style.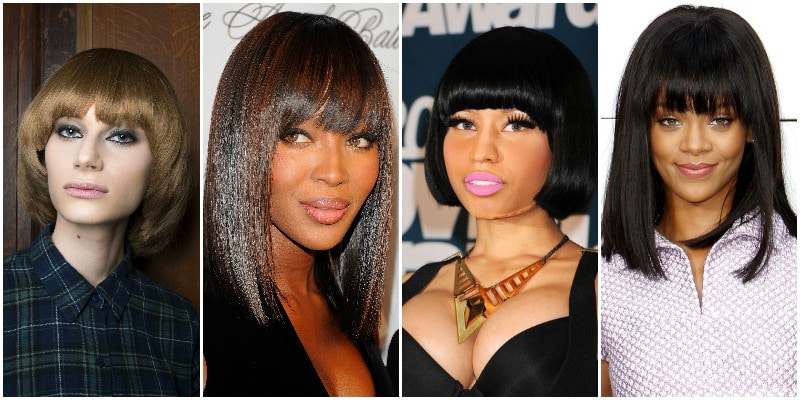 How to Style Blunt Bangs
10. Thin Bangs
If you have thin hair you may be thinking that bangs won't suit you but you'd be wrong. Thin, "piecey" bangs have never been more popular than at this very moment. So there's never been a better time to have bangs if you have thin hair. Cut your hair to just below chin length and add front facing bangs. Although you may think that your bangs look strange, they are actually perfect for your look. Thin bangs create space and open the face more. This is particularly useful for those with small, oval faces.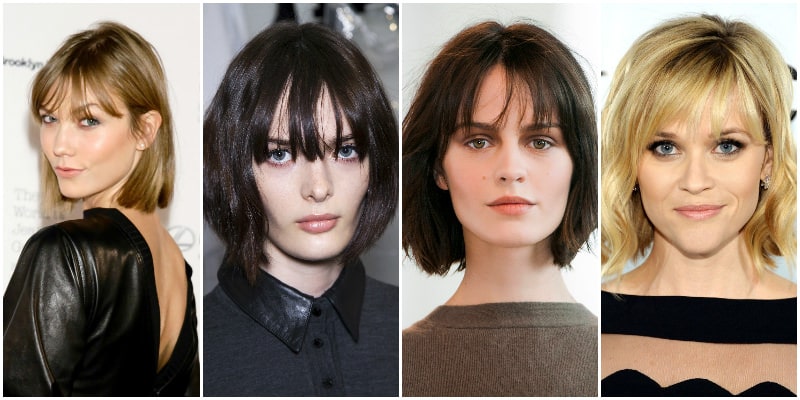 How to Style Thin Bangs